For an organisation to achieve success, they must be driven by a certain set of values. The values that are key to our success and have guided us through the years include;
Trust: There's nothing faster than the speed of trust! Extend it, cherish it, build it!
Safety: Choose to make safety a personal value. Think SAFE, Act SAFE, Be SAFE.
Ethics: Do the "right thing" and always encourage others to do the right, honest, and ethical things.
Teamwork: Value different viewpoints. Execute the agreed-upon plans. Together everyone achieves more!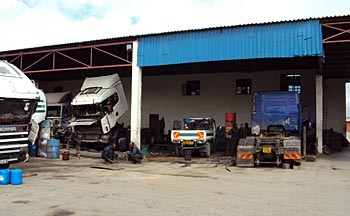 Respect: Treat others with the same personal and professional consideration we expect for ourselves.
Balance: Manage your time for both business and personal success
Communication: Share information, ask questions, listen effectively, speak thoughtfully, and let ideas live.
Change: Accept it. Embrace it. Initiate it. Do everything better, faster, and more value added.
Initiative: Seek opportunities. Use good judgment. Take intelligent risks. Champion ideas.
Team Purpose
We serveAinu Shamsi customers and employees by providing Best in Class transportation solutions and a healthy and secure work environment so they can meet their business and personal objectives. By doing this, we help our organization achieve the high standards of our customers and build the character of our employees. Our commitment to excellence will drive our economic model through growth in sales, cost control, and increased financial prosperity.